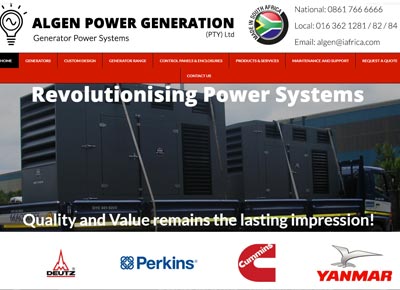 Trusted Supplier of Diesel Generators
Owning a back-up power generation systems is essential for individuals and business owners, especially when considering today's power supply situation. If you are looking for trusted suppliers of diesel generators that will meet your back-up power supply needs, ALGEN Power Generation can assist.
ALGEN Power Generation is a leader in the field of diesel generators in South Africa, providing top quality diesel generators and a supporting services for diesel generator owners. Get the best diesel generator from ALGEN Power Generation today. Read more below about the diesel generator products and services offered by ALGEN Power Generation, or contact this leading service provider today for assistance today.
Diesel generators from ALGEN Power Generation
ALGEN Power Generation offer some of the best diesel generators in the country, at very competitive prices. ALGEN Power Generation only make use of top quality components from leading brands, to ensure durable, performance driven and reliable diesel generators for our clients.
Whether you need a small back-up generator for your residential property, or need a back-up energy supply system for an office block or company, ALGEN Power Generation will provide you with a suitable solution that meets your energy demands. Whatever your diesel generator needs, ALGEN Power can assist. ALGEN can customise a generator system / Genset that meets your specific needs. Read more about our generator products and specifications, or get n touch with a consultant at ALGEN Power Generation to discuss your needs:
ALGEN generators
Generator range
Customised generator solutions
Generator services, maintenance and support
ALGEN Power Generation work with all leading brands when it comes to alternators and engines. The team is thus experienced in the manufacturing, servicing and repair of all major diesel generator brands, as ALGEN Power Generation are Original Equipment Manufacturers (OEM). If you are having trouble with your diesel generator, your generator is in need of repair or you need to service your diesel generator, ALGEN Power Generation can assist. Contact ALGE Power Generation today to arrange your diesel generator's maintenance and service.
Get the best diesel generator in South Africa from ALGEN
Don't delay – Get a back-up diesel generator in place before the next power outage. Power cuts can be costly for companies, obstructing business activities and decreasing performance. ALGEN Power Generation supply clients right across South Africa with excellent diesel generators. Contact ALGEN Power Generation today to discuss your power supply needs and to get the best diesel generator for your needs. The benefits of trusting ALGEN Power Generation include:
Top quality diesel generators
Best diesel generator prices
Professional service and technical support
Quality components used from leading brands
A reliable source of energy when you need it