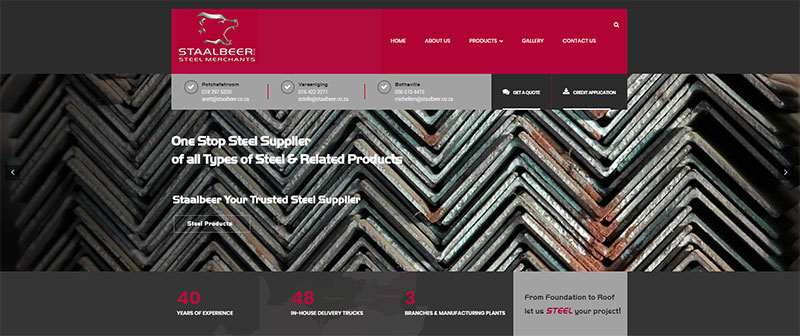 Leading Steel Product Supplier in South Africa
Partnering with a reliable steel product supplier for your building supply needs will definitely be to your advantage. Staalbeer is a leading manufacturer and supplier of steel building and roofing products, supplying many clients in North West, Gauteng, Limpopo, Northern Cape, Free State and Mpumalanga provinces with all the steel building material they require.
Staalbeer has built an outstanding reputation in the steel product manufacturing industry, by providing customers with quality steel products, professional and timely service, and cost-effective prices. Get in touch with a consultant at Staalbeer today to order the steel products you need for your building project.
Steel products supplied by Staalbeer
Staalbeer manufactures the following building products: :
Roofing material and accessories: Staalbeer manufactures a wide range of roofing products. Choose from a wide range of roof sheeting available in different profiles, finishes and lengths. Staalbeer manufacture quality IBR roof sheeting, Corrugated roof sheeting and Widespan roof sheeting. You will also find genuine, top of the range Chromadek® roof sheeting as well as a range of Polycarbonate (transparent) roof sheeting for patios, outdoor areas and more. For a professional finish, complete your roofing project with quality roofing accessories from Staalbeer, which include a wide range of gutters and flashings. Get all your roofing products from Staalbeer today.
Light steel roof trusses: Light steel roof trusses is used widely for roofing projects across South Africa. This is because light steel roof trusses offer a number of benefits over timber roof trusses like its high strength-to-weight ratio, efficient use, cost-effectiveness and design versatility. Let Staalbeer design your light steel roof trusses for your building project.
Steel building products: Get all the other steel building products you need for your building project from Staalbeer. The range includes lipped channel, steel sections, hardware products, sheet and plate, tubes and piping, flatex and much more. Browse through the selection of products online, or speak to a professional consultant at Staalbeer today for the products you need.
Reinforcing steel products: Staalbeer also manufacture reinforcing steel products for concrete reinforcement, which include rebar and welded mesh in various diameters and specifications.
Other steel products and services: Other steel products from Staalbeer include fencing, decorative metal screens, perforated plated and CCA treated poles. Services provided by Staalbeer include laser cutting and bullnosing and cranking of roof sheeting. Contact Staalbeer today for more information about the steel products and supporting services you require.
Order your steel products from Staalbeer today
Rely on the team from Staalbeer to supply you with quality steel building products that meet your requirements. We assist building contractors and individuals to get the best building products for their needs. Contact the leading steel product supplier in South Africa today to discuss your requirements and to order the building products you require.